Last month I visited Johannesburg, South Africa with AFAR Experiences. It was interesting ahead of the trip to tell people that I was going to South Africa, to Joburg specificially and not Capetown. To be fair, I also wanted to see Capetown, but I only had so many vacation days and safari won out over Capetown.
Reactions to Joburg were mixed at best. Memories of the tougher times in Joburg are still top of mind for many, but those memories are in serious need of an update based on my experience.Apartheid only ended in 1994, and the ups and downs that Joburg has experienced in the years since have been immense.
Here's a short excerpt from the History of Johannesburg, by Footprints Travel Guide to give you a bit of background:
Since the mid-1980s this forced movement of Africans from the city centre to the townships has been reversed. The breakdown of influx controls led to the rapid growth of the African population of Johannesburg city centre, especially in Hillbrow, which has one of Africa's highest population densities. Since the end of Apartheid this trend has continued and has been bolstered by the arrival of new immigrants from outside South Africa's borders. Tens of thousands of Nigerians, Congolese and Zimbabweans have flooded, often illegally, into the centre, suburbs and townships. The population has mushroomed in the last decade, with a growth of around 23% since 1996.

The inner city has suffered from soaring crime rates in the last two decades, although much is being done to reverse the trend. While the mid-1990s saw much of central Johannesburg being deserted, with business and offices moving out to the northern suburbs, and the city being tagged as the murder capital of the world, the local government has clamped down in recent years. Massive raids on apartment blocks in Hillbrow have ousted thousands of illegal immigrants.
Lately Joburg has been receiving accolades and mentions in Best of Lists, including those for Best Fashion, Great Places for Startups, and as one of the 27 best "Cities of Opportunity" by The Atlantic (Oct 12, 2012). Since hosting the World Cup in 2010, the climb away from the dubious distinctions of years past appears to be taking on a life of it's own.
I'm not saying their work it complete (and neither are they), but I am saying that the pride Joburgers feel in their city and its revival is well warranted!
Walking Tour of the Central Business District (CBD)
One of the highlights of my time in Joburg was getting away from the Melrose Arch Hotel near the upscale suburb of Sandton and wandering through the CBD guided by Gerald Garner, author of the recently updated Joburg Spaces and Places 2.0.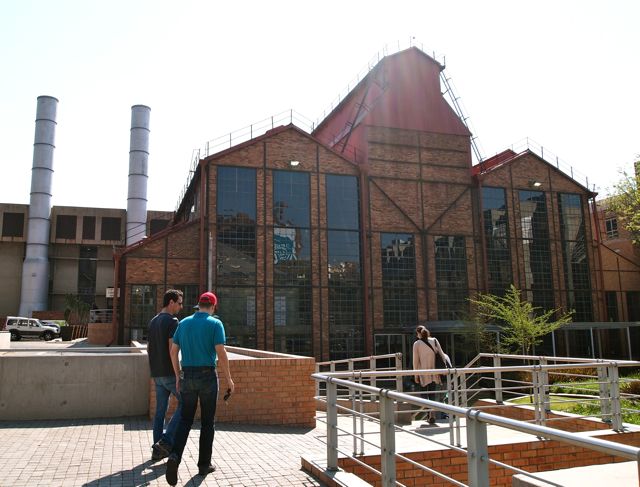 Turbine Hall
At one time Turbine Hall was home to about a thousand squatters who lived here in the late 1990s, without running water or basic services, when they came to Joburg seeking work and opportunity after the end of apartheid. Now, it's home to a mining company's corporate headquarter, a top venue for weddings and corporate events, and a symbol of the progress Joburg has made to date.
Here are some Before & After photos of via Gauteng Tourism. They are mild, but I think they do still shows how fundamental the change has been in Turbine Hall.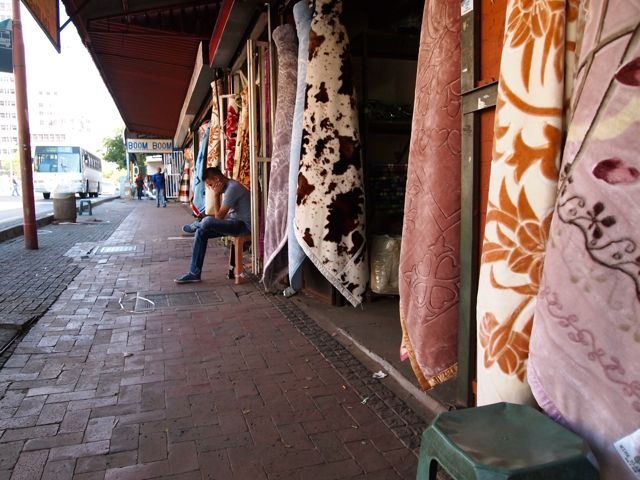 Carpets for sale.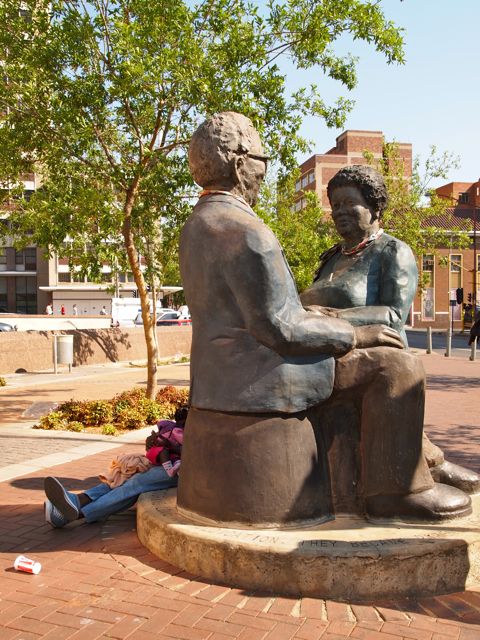 There's a ton of art on the streets of Joburg, which I loved. Above is the Walter and Albertina Sisulu statue, and it's designed to allow you to crawl up on the statute and sit in their laps! Here a father and daughter are nestled together at the base instead.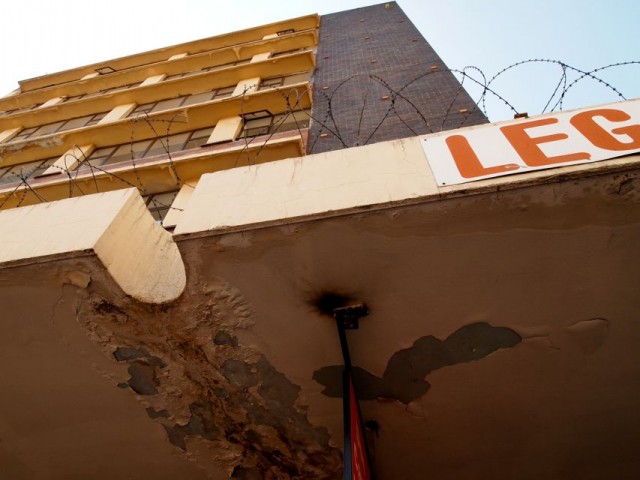 Based on the CBD's reputation, I thought I should include this shot. It was the only barbed wire I could find during our whole tour.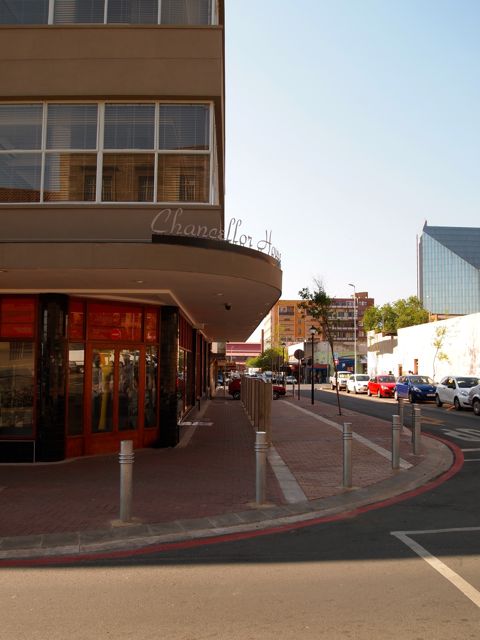 Above, Chancellor House was once home to the law practice of Nelson Mandela and Oliver Tambo (a largely unsung hero of the resistance to apartheid). I love that they've made it a museum, and there's pictures and history visible from outside on the street.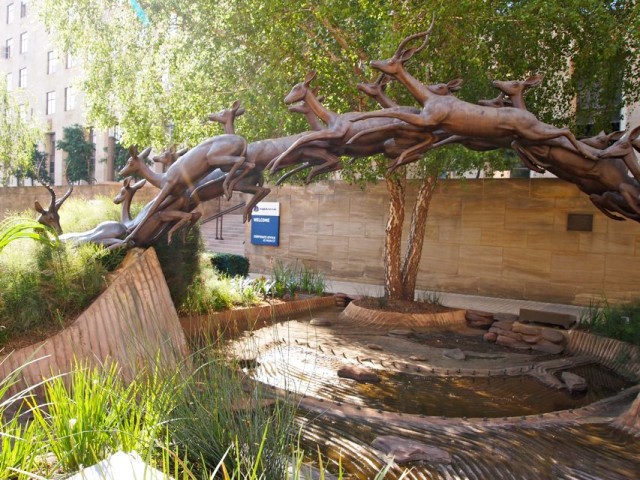 Impala Crossing (above). A beautiful statute that it situated across from the ornate mining company headquarter below.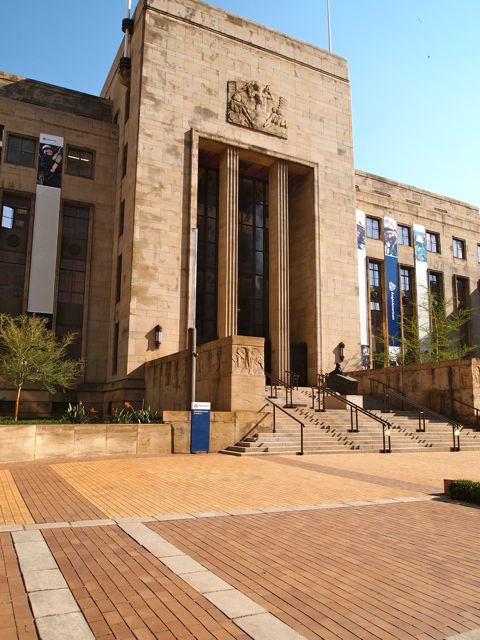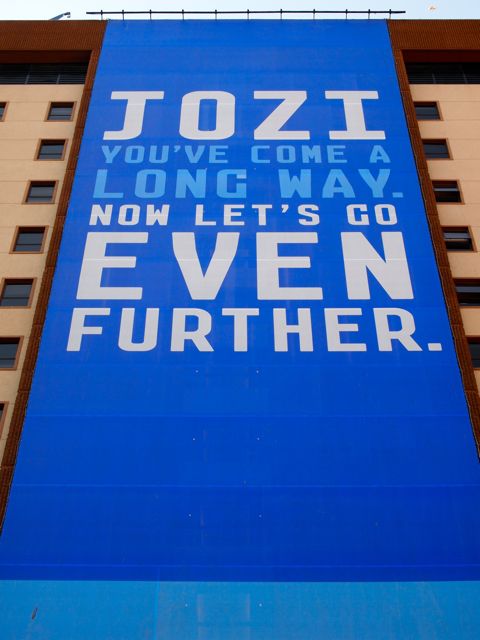 Jozi is another of Johannesburg's many nicknames.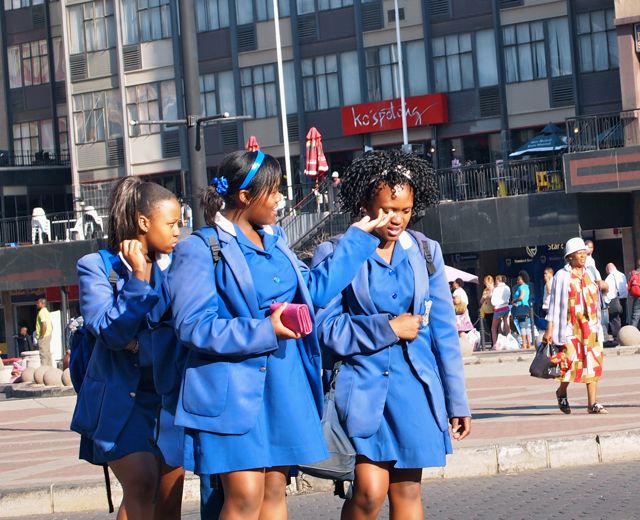 School girls in their vibrant blue uniforms as they walk through Gandhi Square, a retail and transportation hub at the heart of the CBD. It makes me a little bit nostalgic my own days of school uniforms, but my plaid skirt wasn't nearly this attractive.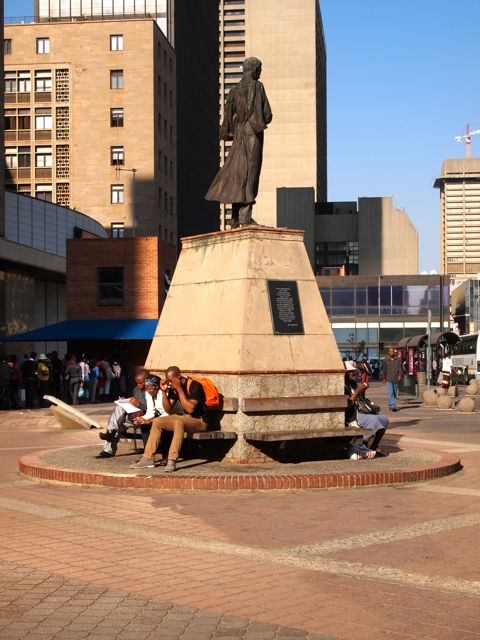 Statue of a young Gandhi who lived and practiced law in Johannesburg for a little more than 20 years before returning to India to challenge the British through non-violent resistance.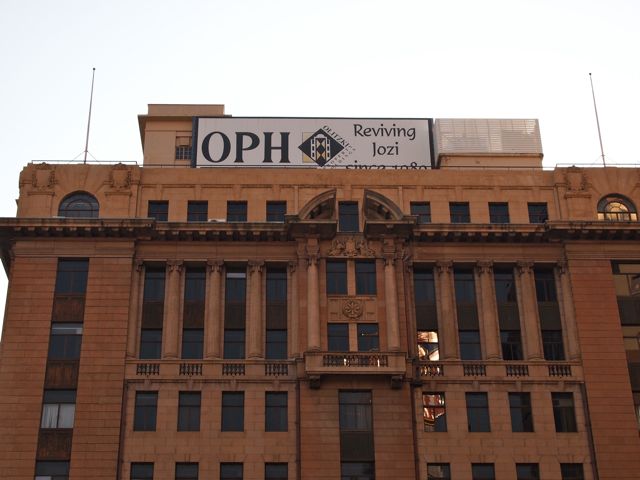 This last picture is right off Gandhi Square. It's just an ordinary building, but the sign above is like many adorning the buildings of the CBD. It reads: OPH, Olitzki Property Holdings, Reviving Jozi Since 1989. Talk about taking advantage of an opportunity… Olitzki sounds like quite a brave and savvy business man to me.
Over the next 20 years, he acquired dozens of decaying buildings on the streets surrounding the square, many of which had been hijacked. He evicted the criminals, gutted the buildings and turned them into arcades and offices. Today, Gandhi Square is lined with shops, cafés, restaurants, offices and even a jazz club.

"I've tamed it," Mr. Olitzki says. "Bit by bit, I consumed the elephant."

Now, he's making the elephant bigger, developing new projects in the downtown core and turning once-decrepit streets into pedestrian boulevards. His grand plan, scoffed at by cynics in the 1990s, is finally working.

The vacancy rate in his refurbished buildings is zero. There hasn't been a serious crime on Gandhi Square in the past five years – not even a bag-snatching or pickpocketing. More than 250,000 people pass through the square every day, heading to jobs at nearby banks and mining headquarters.

– Johannesburg's Inner City Makes an Amazing Revival, The Globe and Mail (June 4, 2010).
As you can see, the Central Business District of Johannesburg in 2012 isn't scary at all. It's highly developed, and I felt extremely safe. In fact, the modern '60s and '70s architecture in many parts of the neighborhood could be lifted directly out of any city in the southern United States, but thankfully there's plenty of African flair in the CBD too.
See more photos of Joburg's CBD on Flickr.
About Gerald and Joburg Places & Spaces
Any and all interesting information provided in this post I learned from Gerald's tour. I've done a bit of googling to add quotes and links for you, but don't be mistaken the knowledge is from Gerald. He is incredibly knowledgeable about Johannesburg and South Africa in general. I highly recommend you join his walking tours or hire him for a private tour when you are in Johannesburg. You will learn a ton and have a lot of fun in the process.
I have not yet read his book, but here's what others have had to say about it:
"Spaces & Places – Johannesburg is a must-read for anyone who spends time in Johannesburg – be it the city's many residents, business visitors or tourists. It is the first book on Johannesburg to showcase the city's hidden treasures in full-colour photography, complemented by fascinating facts and observations about life on Africa's continental watershed." – Johannesburg Inner City Business Coalition

"Author and photographer, Gerald Garner embarks on an adventurous project to reveal Joburg's many urban nodes and village streets, as well as its green heritage and struggle legacy. Written in a subjective style, Garner travels with you to his favourite Jozi places and provides incredible insight into the richness and diversity of the city's places, people and spaces." – Pepper Express

"Garner admirably succeeds in creating a guide for all to experience a safe and enthralling Johannesburg." – David Krut Publishing (where you can buy the book online, but only for shipping within South Africa)
About AFAR Experiences
They are not a typical tour company… First, they're a part of AFAR magazine, which is focused on experiential travel, not at all escapist in nature. Second, it's really an event, not a tour. Everyone met in Johannesburg for 5 days of experiences designed by AFAR. It's a group of (mostly) experienced and independent travelers who came to enjoy Joburg together with the benefit of AFAR's connections and curatorial skill. We saw an amazing number of places and heard from compelling South Africans who I would never have met otherwise, all within that short period of time.
Find our more here and about their next trip to Sydney, Australia here.