Today is a busy day at my alma mater, Southern Methodist University (SMU) in Dallas. As I type this, the dedication of the Bush Presidential Library is taking place with all living Presidents in attendance. It's a big deal for a university to get a presidential library, but like the former President himself, it's not been without controversy.
SMU, Dallas, & The Bush Library
In a recent op-ed for the Dallas Morning News titled Bush Library Tethers Dallas to Good-Old-Boy Tradition, writer Sarah Hepola discussed the impact of the library on Dallas' identity.
"The Bush Library won't change Dallas' identity. Not any more than his father's library changed College Station or Eisenhower's library changed — hold on, let me Google this — Abilene, Kan. Presidential libraries don't have that kind of transformative power. They're more like souvenir plates hung on a wall."
Even now, plenty of people are still largely ambivalent about the presence of the library in Dallas and at SMU. I count myself among them, but I'm also proud that SMU was selected. I think it's fair to say that the addition of the library doesn't mean all that much for the city, or for SMU. At least I hope so. Like the city of Dallas, SMU also has plenty of ties to the Texas good-old-boy tradition and at times those ties can serve to impede progress.
But instead of focusing on the Bush Library today, I want to tell you a little about another museum on the campus of SMU, a hidden gem and one of my favorite spots in the city, The Meadows Museum. It too could be seen as part of that Texas good-old-boy tradition, but that would only be part of the story and definitely the least interesting part.
SMU's Meadows Museum
Located near the entrance to the campus, The Meadows Museum houses "one of the largest and most comprehensive collections of Spanish art outside of Spain "[w]ith works dating from the 10th to the 21st century, the internationally renowned collection presents a broad spectrum of art covering a thousand years of Spanish heritage." The museum was even inaugurated with a visit from King Juan Carlos and Queen Sofia of Spain, when it reopened in it's current building in 2001.
The museum began through the efforts of one man, Algur H. Meadows:
"During business trips to Spain in the 1950s, Texas philanthropist and oil financier Algur H. Meadows spent many hours at the Prado Museum in Madrid. The Prado's spectacular collection of Spanish masterpieces inspired Meadows to begin his own collection of Spanish art. In 1962, through The Meadows Foundation, he gave SMU funds for the construction and endowment of a museum to house his Spanish collection. The Meadows Museum opened in 1965 as part of a new arts center at SMU."

– From The Museum's History (emphasis mine)
Today the museum is part of a partnership with the Prado (the first of its kind for the Prado with any foreign institution) and continues to acquire important Spanish art. There's always been more to Dallas than the stereotypes and that will continue to be true both of Dallas and of SMU regardless of today's events.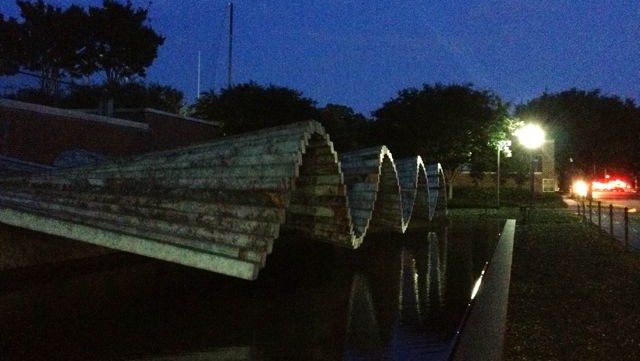 A few of my favorite pieces at The Meadows include:
Visiting The Meadows Museum
HOURS: Tu-Sa 10:00 a.m.-5:00 p.m., Th until 9:00 p.m., Sun 1:00-5:00 p.m. Closed Monday.
ADMISSION: $10 for adults, $8 for seniors 65 and over. Free Thursday after 5:00 p.m.
LOCATION: Meadows Museum, 5900 Bishop Blvd., Dallas, TX 75205
Don't worry, I have more posts coming up from my trip to Scandinavia soon!