I've been following the work of Russian journalist and activist Masha Gessen after listening to an interview with her on NPR about her recently released biography of Vladimir Putin, The Man Without a Face on a road trip to Oklahoma City (from Dallas, not San Francisco).
Even though I was half a world away from Russia, I still recall feeling chills as I listened to her explain how Putin systematically dismantled the political checks and balances originally present in the Russian constitution and the consequences those changes bring with his return to the Presidency. I've followed her work ever since.
One of her recent posts For Weddings and a Funeral on the New York Times' Latitude blog caught my attention. Gessen writes about a wedding she attended and the oddly customized wedding ceremony involved, including an elaborate puppet show choreographed to tell the couple's story. She attributes these "unintentionally ridiculous," personalized rituals to the gap left by Communism's "70-year war against religion and bourgeois traditions."
She also points to funerals as another arena for these "bizarre mash-ups." Here's a short excerpt:
In death as in love. In the early 1990s, Russian mafiosi began creating larger-than-lifesize tombstone portraits in granite for their fallen comrades — and, sometimes, for the dead men's cars, too: anything to convey their status in life. Later, the newly and suspiciously rich began burying their dead in outrageously opulent coffins — studded with jewels, lined with silk or leather.

– For Weddings and a Funeral, NY Times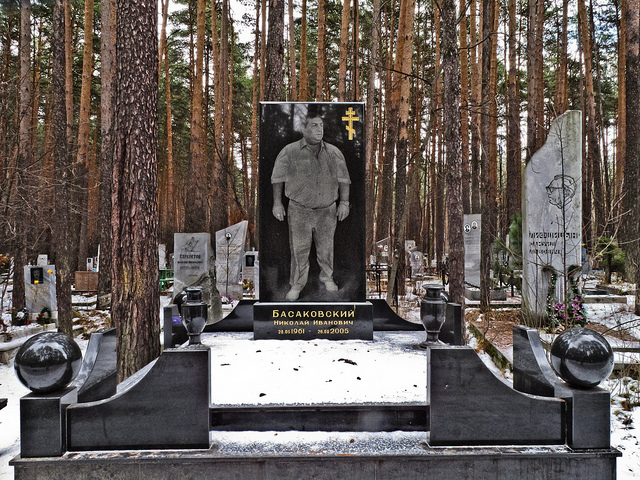 A link from her post showed gravestones just like the ones here. While looking for pictures that I could (legally) share here, I came across Flickr user peretzp and his New Russian Graveyard album. His description states that, "[t]hese photos are of gravestones in my hometown of Yekaterinburg., which in the 90s was known as the mob capital of Russia."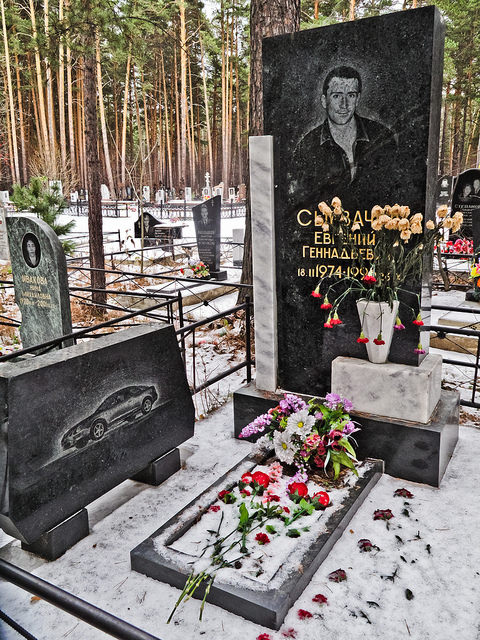 Be sure not to miss the sports car above!
Yekaterinburg is the fourth largest city in Russia, located in the middle of Russia on the border of Europe and Asia in the Urals region, named for the mountains. It's also the spot when Russia tsar Nicholas II and his family were executed in 1918.
The huge Urals city, which is 1,000 miles east of Moscow, has long been regarded as Russia's most mafia-ridden. Criminal gangs made fortunes following the collapse of communism by ruthlessly exploiting the newly-privatised heavy industries.

– Laid to Rest in Russia's Gangster Graveyard, Daily Mail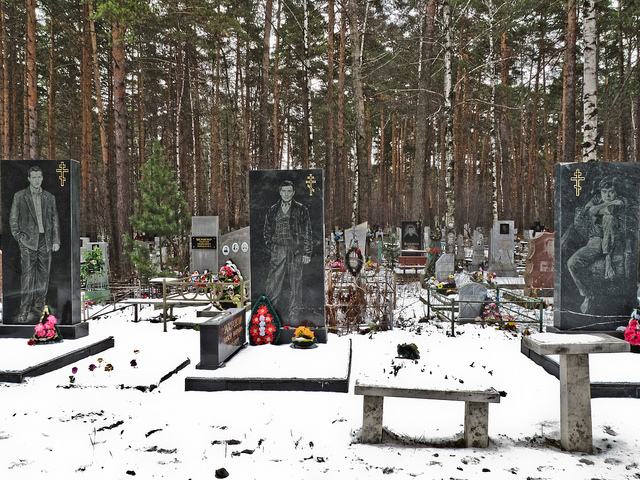 Transitions leave a vacuum of power in which the most ruthless and opportunistic among us will do what is required to secure their power and wealth at the expense of others and the nation as a whole. It's true no matter the nationality. All the 90s leather, expensive sports cars, and tasteless bravado enshrined here can't distract us from that.
Want More Information?
Photos: Peretzp
// Here's a taste of some Awfully Photoshopped Russia Wedding Pictures, via Dave Dean @driftingkiwi.